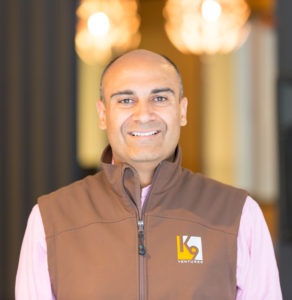 Dr. Manu Kumar
Chief Firestarter
TwitterLinkedInFacebookGoogle+AngelList
My introduction to computing began with a summer camp for kids to do self-paced computer-based training. I'd completed the two week program in a couple of days, and proceeded to spend the rest of the time mastering the remaining courses they had available. Logo was my first computer language, but Wordstar, dBase, and Lotus 1-2-3 were not far behind.
When I was 13 or 14, I convinced my grandmother to buy me a computer—a Commodore 128. By 16, I was hacking code in Pascal. I was hooked.
I left India at the age of 17 to study at Carnegie Mellon. I finished my Bachelors in Electrical and Computer Engineering and then completed a Masters in Software Engineering. While a student, I started my first company, SneakerLabs, Inc., with $5,000 from a summer internship. I bootstrapped the company for 2 years, supporting myself and the company by teaching courses at Carnegie Mellon. In 1998, I raised $1M in funding from local angels in Pittsburgh, PA, and SneakerLabs was off to the races. We went from lows of having $1,000 in the bank (and a $30K payroll!) to ultimately being acquired at the peak of the dot-com bubble in March 2000 in a deal valued at over $100M.
The success of my first company was very much a function of being in the right place at the right time. We did a few things right—building an awesome team being the one I'm most proud of—but I wanted to be sure that this was repeatable. So I helped start a second company at the bottom of the bottom.
iMeet, Inc started in 2000. We raised just $800K and were competing with companies in the Valley that had raised $60M-$100M. We grew the company to cash flow positive and in 2002 merged with Boston-based Netspoke. I stayed on the Board of Directors for Netspoke, but took a break to move out to Palo Alto and pursue a PhD in Computer Science at Stanford. I researched automobile interfaces, and wrote my dissertation on using eye tracking as an augmented input to traditional devices.
In 2005 we sold Netspoke to Premiere Conferencing (NYSE:PGI). Shortly thereafter, I began helping the founder of Lytro start what was at that time called Refocus Imaging. I became an accidental investor when I wrote the first check for Refocus Imaging in March 2006, to encourage the founder to get the company going.
In 2006-2007, I had the opportunity to go up and down Sand Hill Road to help Refocus Imaging raise funding. I observed that:
Most VCs were doing $3M-$4M Series A investments, but there were few funds that would participate in a sub-$1M round.

Most firms were not taking on technology risk—the very basis of what Silicon Valley was built upon.

Very few of the younger generation of investors had actual startup and operating experience.
I saw a need for a new type of seed-stage venture fund, and K9 Ventures was officially formed in April 2009.
I'm an entrepreneur at heart and my passion is starting and building companies. The part I enjoy most is getting from idea to first product. That's why I chose to focus my investing on the earliest stages of a company's life, where I get to work directly with founders.
Tweets by @ManuKumar
Current Investments
CrowdFlower, Twilio, Lyft, Everlaw*, Baydin, LucidChart, Occipital*, eShares*, Enûma*, Coin*, Osmo*, KidAdmit*, Auth0, Gradescope*

(* indicates current board seat)
Past Investments
CardMunch (acquired by LinkedIn)
BackType (acquired by Twitter)
IndexTank (acquired by LinkedIn)
card.io (acquired by PayPal)
Torbit (acquired by Walmart Labs)
NimbleVR (acquired by Oculus/Facebook)
MobileSpan (acquired by Dropbox)
Experience
Doctoral Researcher, Stanford University
Board of Directors, Netspoke
CEO, iMeet
Vice President, E.piphany
Founder and CEO, SneakerLabs
Lecturer, Carnegie Mellon
Education
PhD, Computer Science, Stanford
MS, Computer Science, Stanford
MS, Software Engineering, Carnegie Mellon
BS, Electrical and Computer Engineering, Carnegie Mellon