This is how I remember it: It's September 2005, and I was sitting in my office at Stanford in Gates 382. In walks Ren Ng, introduces himself and says something along the lines of "I hear you do startups, could we chat?" Ren, now Dr. Ren Ng, was a fellow PhD student with me at Stanford. His office was next door to mine. I didn't know Ren personally, but I certainly knew him by reputation — as one of the smartest people around. He had a knack for always asking the most insightful (and sometimes pointed) questions to people giving talks at the Graphics Lab. Basically everyone I ever spoke to was always in awe of Ren. I also knew that Ren was smart because he did his undergrad work at Stanford and then got admitted to the PhD program in CS at Stanford — that's typically a sign of someone being extra sharp, because most of the top Computer Science schools (Stanford, Berkeley, Carnegie Mellon and MIT) don't like to accept their own students into the PhD program.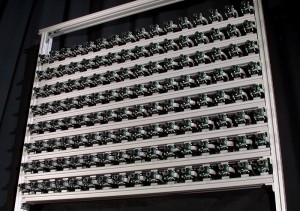 For his PhD thesis, Ren had done something that sounded completely impossible, especially to me, since I had limited knowledge about photography and imaging at the time (I've since learnt more by hanging out with Ren!). He had succeeded in coming up with a way of shrinking 100s of cameras into a single camera (grossly over-simplified). The Stanford Multi-Camera Array was an array of 100 cameras. It let you do all kinds of interesting things, including "see through partially occluding environments like foliage or crowds." Ren's breakthrough was that he figured out a way to put all that in the palm of your hand and he had already built a working prototype in a full-form factor camera. Everyone in the Graphics Lab, including the professors (Ren worked with Pat Hanrahan, Mark Horowitz and Marc Levoy for his research), always referred to it as "Ren's Camera."
Ren and I started brainstorming about the potential for commercializing his technology in 2005. Having just sold my second company in August, I was already chomping at the bit to get involved with another startup. Doing the PhD alone couldn't keep my entrepreneurial bug fed. We would chat almost every day, and sometimes spend hours hidden away in one of the empty offices across the hall doing whiteboard sessions around what would be a viable plan for taking this amazing technology out to market.
At his core, Ren was an academic. He was a little apprehensive about whether it would be possible to really build a company around this. My job was to keep coaxing him on and to keep reminding him that it is doable. I would keep asking him "So did you incorporate yet!?" To add to the complexity of the situation, Ren happens to be an Australian citizen. One of the concerns we had was how do we get him to stay in the US to be able to build the company here. (Most people who read this blog already know my thoughts on, and my support for the #StartupVisa.)
On March 21st, 2006, the Stanford Computer Science department celebrated its 40th anniversary with an awesome event, with an absolutely stunning line-up of speakers — Professors, Entrepreneurs and Professors-turned-Entrepreneurs. As Ren and I sat there listening to their stories, in between the panels and talks, I asked him yet again "So did you finalize the name for the company?". He responded with "I think I'm going with 'Refocus Imaging.'" "Great," I said, as I secretly reached for my checkbook.
What Ren didn't know then was that I had made up my mind to back him a long time ago. In fact, I was so ready to back him, that I had already transferred money into my checking account for it. At the next break I slipped the check over to Ren. On the memo line for the check, I wrote: "Just do it! :)" In fact, here is my copy of that check: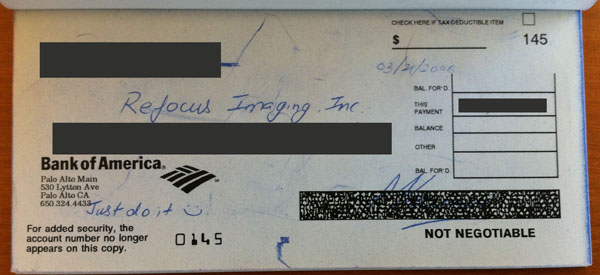 Starting a company with as grandiose a plan as this doesn't happen often. We talked about several markets — security, defense, professional (DSLRs), consumer (Point-and-Shoots), mobile (cell phones), IP licensing, lens adapters, etc. It was a wide wide landscape and a rather daunting one. When we started to pitch the idea to investors, Ren and I went up and down Sand Hill Road and we met with almost all the top firms. Almost every VC firm came back with how they either don't do hardware, or they don't do IP licensing plays. The experience of going up and down Sand Hill to pitch Refocus with Ren is also what opened my eyes to what was happening in the venture capital space. It was the defining moment when I started thinking about doing my own venture fund. And it was also the experience that made me realized that dammit, what I *really* love is startups, and that I need to give myself a kick in the rear to finish my PhD so that I can get back to my real passion.
I've written before about Rajeev Motwani and how he was instrumental in so many of the Valley's startups. Well, it was Rajeev, who met with us and then offered (and followed through, like he always did) to help us connect with a couple of venture firms. He made the introduction to Charles Chi at Greylock, who eventually led the Series A for Refocus Imaging in 2007.
The first few years of Refocus were spent operating as a very lean company with a team of four (Ren Ng, Colvin Pitts, Tim Knight and Alex Fishman) focused primarily on research and development and on learning about the market. One of the realizations was that camera companies are relatively old, stodgy companies, where it is very hard to really innovate and do something that is new and different. When was the last time you saw a camera company do something really radical? It's always about adding one new feature for the next product cycle / Christmas season. By building our own camera, Refocus took on the challenge of being different and really creating something new — a clean slate approach to camera design.
In May 2010, Refocus Imaging closed a Series B round of funding led by NEA. I was honored to participate in the round and officially welcome Refocus into the K9 Ventures portfolio. In May 2011, the company closed its Series C round of funding with Andreessen Horowitz. The company launched today under its new moniker: Lytro, and has received a phenomenal reception in the press:
And here is what the folks are saying:
"The Lytro camera captures far more light data, from many angles, than is possible with a conventional camera." New York Time, Steve Lohr

"Since images are focused after the fact, users don't have to spend time focusing before shooting. Nor do they have to worry if they wound up focusing on the wrong thing." Wall Street Journal, Don Clark
"Lytro's breakthrough new camera hinges on a new kind of sensor that captures the entire light field around a picture, rather than only a single light field like current cameras capture." VentureBeat, Sean Ludwig
"Lytro is developing a new type of camera that dramatically changes photography for the first time since the 1800s." TechCrunch, Sarah Lacy
"A Mountain View start-up is promising that its camera, due later this year, will bring the biggest change to photography since the transition from film to digital. Ordinarily, I'm turned off by such hyperbole, but after having seen a demo from Lytro, that statement seems downright reasonable." All Things Digital, Ina Fried
"Lytro is unveiling some fascinating new camera technology that could be a major leap in photography–maybe the biggest since the shift from film to digital." Forbes Tomio Geron
"After seeing Lytro's editing capabilities in action, I can tell you it's much, much cooler than anything current cameras and image editing software will let you do. And yes, the company's technology even has the potential to become a breakthrough innovation in the camera industry." Fortune, Michal Lev-Ram
"At first, Lytro will make and market its own camera. I really can't wait. Imagine being able to pick and choose just what is in focus when you get back home, just like we can do now with white balance and — to a certain extent — exposure. If it works as well as it seems from these sample photos, this could be huge." Wired, Charlie Sorrel
"That click you just heard? That was the sound of photography as we know it changing." Fast Company, Kit Eaton
While $50M may sound like a lot of money, most of the capital that the company has raised is fresh. The biggest risk for a company trying to enter the market with a new consumer electronics product is the risk of capital — because it simply takes a lot of money to do that. That was one of our biggest worries when Ren and I were first discussing different strategies in 2005. Today, the company is well capitalized, and has the backing and the support of some of the top venture firms in the Valley.
Check out the full picture gallery on the Lytro website. Here are just two samples:
Rarely does a technology come along that is so fundamental in its impact. None of the articles that you may have seen in the press about Lytro capture the full extent of what this does (yet). The impact of Ren's technology is so fundamental that, if successful, it will completely change an entire market. Photography and imaging will never ever be the same again. I will not go into some of these details here because I believe that it is the company's prerogative to make that information available, as and when they're ready. But needless to say, I am a firm believer that this is technology that defines what it means to "change the world."
I've been an investor in and a "Founding Advisor" to the company since literally before it started. I've watched Ren mature as an entrepreneur and become what is the prototypical example of a perfect founding CEO. When you talk to Ren today, he will blow you away — not only with his technical prowess, but also with his deeply analytical thinking around every aspect of the business. More than anything, I am honored to call Ren a dear dear friend (he's second only to my wife on the Favorites on my iPhone) and someone I know I can trust implicitly.
What used to be "Ren's Camera" is now the Lytro camera. Congratulations to Ren, and to the entire Lytro team. It's been a phenomenal journey so far, and we're just getting started.
You can follow me on Twitter at @ManuKumar, or, follow @K9Ventures for just the K9 Ventures related tweets. You can also follow @Lytro or like Lytro on Facebook.